The Reset Button – A Mind Dynamic Technique
Even though I am truly committed to "practicing what I preach"…
Even though over the past year I feel that I've rotated almost 180 degrees from some very low energy and stagnated seasons (let's say I'm at about 160 degrees now :- ) …
Even though my coping skills for fear and anxiety have taken a quantum leap…
Today was a particularly hard day.   Somehow I got off to a not-so-good start, and it escalated.  Eventually I calmed down, yet I still felt out of sorts.
But when I went out with the dogs this evening and breathed in fresh, about-to-rain nighttime air, and considered the past dozen hours, I thought:
"What I really need is a reset button!" 
And then I created one – mentally, of course.
Remember that Staples campaign from a few years back – that 'Easy" button?  I saw it as a big red button and imagined that I was pressing down on it with both hands and hearing a pleasant buzzing sound.  And then I simply decided that I was ready for the next few hours of so of this day to be different, to be better.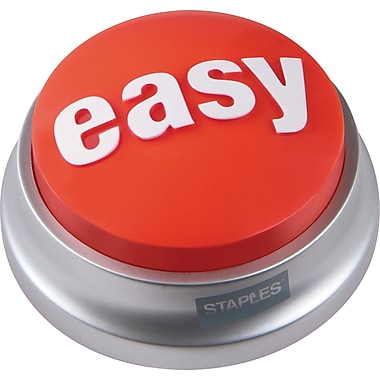 www.staples.com
And as I mentally pushed down that button (and you can see it, internally, like between the eyebrows, or in the heart area, or down in the gut – and it can be any color, shape or size that it wants to be – I also did a mental reset, which included:
I've been doing enough judging today, and that includes myself.
And I've added enough emotional pollution to the environment, to my living space where and where my loved ones breathe.
And I've discombobulated enough glands and hormones for one day.
So, enough.  Let's just reset and start over.
I'm willing to have a fresh perspective.
It's never too late to start over.
 When you are having a bad day – and we ALL have them – try this.  It is proactive behavior.  Positive, life-affirming behaviors become habits that take your life experience to a higher octave.   The most important thing to remember:  At any given moment you can STOP the madness, you can change your perspective.  Just let go and stop judging yourself for being human.
Please let me know how this works for you!
(And if you enjoy learning Mind Dynamic Tools, check out our "Essential Hypnotherapy Skills" course that teaches you self-hypnosis and helping others with behavioral modification tools and techniques.  Earn your certificate in 6 months! )
Green Reset Photo Credit:  © Can Stock Photo / gunnar3000